Ruby Surgical & Allied Products Pvt. Ltd.

For Life Collection : Manufacturer of Medical Textile Products

An ISO 9001 : 2008 & ISO 13485 : 2003 Certified Company

A 43/44, MIDC Area, Ajantha Road, Jalgaon, INDIA - 425003
Tel : +91 257 2210 476 | Fax : +91 257 2211 682 | EMail : sales@ruby-surgical.com

Cotton Products
Ruby Surgical has been a surgical cotton manufacturer for over three decades and and offers a wide variety of medical application products. Our cotton product range includes absorbent cotton (wool rolls, zig-zag, balls) and many more. To ensure highest quality all these products are manufactured as per IP / BPC / BP requirments and follow a strict quality control process.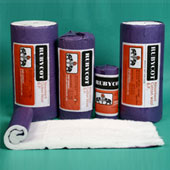 Absorbent Cotton Rolls IP/BP/USP
Absorbent medical cotton wool is well known for its qualities as a dressing material and is safe for all skin types, especially for the sensitive facial area, therefore is appreciated in the world of medicine and hygiene. Cotton roll are made of 100% cotton for superior quality, super padding effect, excellent cohesion & softness. Packing for this item is paper interleaved and packed in recloseable bag.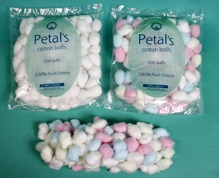 Cotton Balls
Pure Cotton balls are made from highly-absorbent 100% natural cotton. Soft, compact and uniform in size and weight. Available in White as well as in colored Cotton in pastel colors ideal for make up applications. Available from about 0.35g to about 2g weight of each ball in various pack sizes as per request. Packed in reclosable bags with flexo as well as roto printing.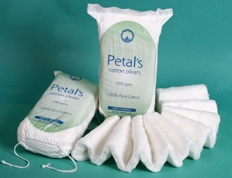 Cotton Pleats Plain / Precut
Pure white Cotton Zig-zag / Cotton Pleats are made from highly-absorbent 100% natural cotton. Soft, compact and uniform in size and weight. Available in Plain as well as pre-cut presentation. Available in 50g to 1000g pack size range in pre-printed polybag with/without drawstring.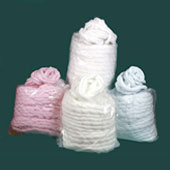 Cotton Sliver (Coil) For Buds/Balls
Cotton in sliver form in coils of 12" diameter is suitable for use in manufacture of Cotton Ear Buds & Cotton Balls. The sliver is manufactured from choice of fiber with specific feel of Cotton so that the desired characteristics are reflected in Buds & Balls. For coloured cotton balls, sliver dyed in pastel colours is available. This sliver is packed in a Plastic tubing ensuring its hassle free unwinding and evenness is maintained and retained. Available in required linear density from 1.5 gms/meter to 40 gms/meter.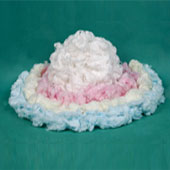 Bleached and/or Colored Cotton
We bleaches cotton fiber to customer specifications using safe and approved chlorine-free formulae and process controls. Bleaching involves the removal of contamination in and on the cotton fiber followed by the removal of its natural color. We can also supply you Bleached Colored Cotton dyed in pastel color having excellent fastness and approved for use is personal care applications.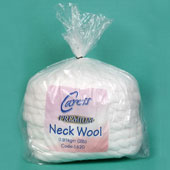 100% Cotton Neck Wool
A soft and superior neck wool for beauty practitioners, salons, hairdressers and thier customers to protect skin and clothing when applying or removing make up and dyeing or perming hair. Our products are specifically developed for high absorbency to avoid dripping of make up, hair dyes and other liquids. Available in various pack sizes of 4 lbs, 3 lbs, 2 lbs, 1 lb and ½ lb.