Ruby Surgical & Allied Products Pvt. Ltd.

For Life Collection : Manufacturer of Medical Textile Products

An ISO 9001 : 2008 & ISO 13485 : 2003 Certified Company

A 43/44, MIDC Area, Ajantha Road, Jalgaon, INDIA - 425003
Tel : +91 257 2210 476 | Fax : +91 257 2211 682 | EMail : sales@ruby-surgical.com
Hospital Supplies
Ruby Surgical's hospital supplies includes a wide variety of products such as surgical dressing that cater to the day to day needs of hospitals. Our products are frequently in demand with the surgery and orthopaedic departments. We also supply these products to various other health related institutions such as health care facilities, medical professionals, businesses and government agencies.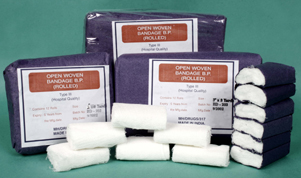 Bandages
Open wove gauze bandages are used mainly for dressing retention purposes and, in connection with splints, for the immobilization of injured extremities; to close split casts or as a final layer over zinc paste bandages (Unna's Boot). Available in 2", 3", 4", 6" in Type 13 as well as type 17 fabric in choice of lenghts from 2.75 mtrs / 5 mtrs etc. Packing in 12's or 10's pack.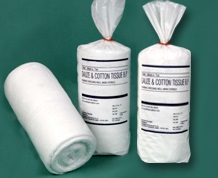 Guage and Cotton Tissue
Soft, economical universal dressing, made from a combination of a fine gauze layer and bleached cellulose; for wounds with heavy discharge, as an additional absorbent layer, for ointment dressings and moist dressings; also for padding. The wound-friendly gauze material and the absorbent layer are joined together without any creases. These dressings can thus be cut off the roll with well-defined edges and no fluff. Available in various sizes as per request from 20 cm x 1 Mtrs / 20 cm x 6.5 mtrs / 15 cm x 5 mtrs etc. as per request.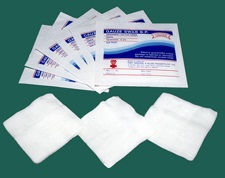 Gauze Swab
USED FOR GENERAL WOUND TREATMENT. High quality pure cotton absorbent gauze with without cut edges folded inside made from high quality fabric having Type 13 & type 17 construction. Used for staunching bleeding and for wound treatment, for gripping and retaining organs and tissue during surgery. Available in sterile presentation.
| Size | Primary Packing | Status |
| --- | --- | --- |
| 10cm x 10cm | Five Dressing in a tear open pouch | Sterile |
| 10cm x 15cm | Five Dressing in a tear open pouch | Sterile |
| 5cm x 5cm | 100's / 50's Bulk Pack | Non Sterile |
| 7.5cm x 7.5cm | 100's / 50's Bulk Pack | Non Sterile |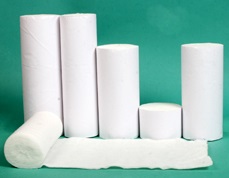 Orthopaedic Bandages
Manufactured from 100% Natural Cotton fibres (not Rayon fibres) with non-woven manufacturing process ideal for using it before application of plaster. Cotton fibres ensure that they absorb all the excess moisture and ensure padding effect. Available in rolls of 2.75 mtrs in length in width of 2", 3", 4" & 6".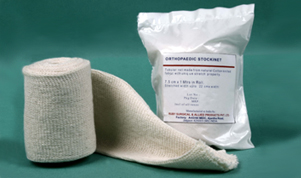 Tubular Bandages
Practical and time-saving (tubular) bandaging technique – derived from the characteristics of seamlessly knitted material – for securing dressings and for light compression; even allows suspension and extension (with traction ring and traction ring belts). The close-meshed, particularly skin-friendly material can be stretched to about four times its original width, and by pulling lengthwise can be narrowed down again; it is ideal for use next to the skin. Tubular bandage does not slip, but remains firmly in position without cutting in. The dressing remains comfortably smooth even on body parts that are difficult to dress. Tubular bandage is a match for any dressing in any location from head to toe. Available in 1.5 mtrs length with width of 2" and 3".